Following the study of risk assessment of the collision of birds with aircraftscarried out at Salé airport, at the initiative of the airport office,it has been concluded that the storks of Dar As-Sikah have been identified as a threat to air navigation.
In order to determine the destiny of some 23 couples living inside this house, the Bank of Morocco addressed the Office of the High Commissioner for Waters and Forests and the Fight Against Desertification that set up a commission to which the Bird Protection Research Group in Morocco (GREPOM/BirdLife Morocco) and the Rabat Zoological Park have been associated.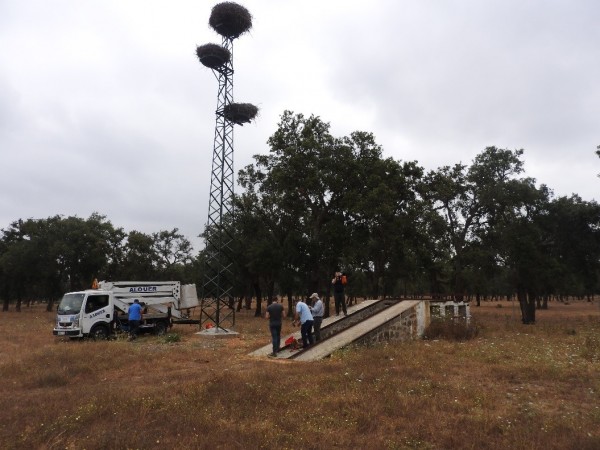 In that regard, GREPOM and Bank Al-Maghreb (Bank of Morocco) have signed an agreement on the implementation of the intervention plan aimed at relocating the Birdhouse of the White Stork to Dar As-Sikah Salé.
This agreement has been implemented by several actions planned in the intervention plan:
Monitoring the readiness at the level of Dar As-Sikahafter the accomplishment of relocation of the nests.
Furthermore, GREPOM conducted this Saturday, June 3rd, 2017, an operation to mark the storks with metal and colored rings on the population newly installed on the platforms of Bir Lahmer.
It is worth mentioning that during GREPOM's follow-up at the Bir Lahmar site, 9 pairs of storks have settled down in the new artificial supports.
Amongst these couples, only one produced a brood. The others, although showing all the signs of a successful breeding season, unfortunately failed.